Moving Forward (NCPSO)
THE NATIONAL COALITION OF PUBLIC SAFETY OFFICERS
The work never stops. Throughout the year, NCPSO has been working hard to set an agenda that will lead us into the 2017 General Assembly Session. In 2016, we held meetings with the Director of the Department and his staff, State Senators and Delegates and we have sponsored Town Hall Meetngs accross the state in order to bring attention to the issues and conditions that currrent staffing levels present to both line officers and support staff. We are on a trend that is no longer tenable. The work that you do as correctional officers and support staff is very difficult, stressful and dangerous. It is time that everyone knows and understands the sacrifices that you make on behalf of the citizens of the Commonwealth every single day. Your position keeps Virginia's citizens safe and provides an opportunity for those who have been incarserated to re-enter society and lead a productive life. Many of you can't fully concentrate on the job at hand due to having to take on a second or third job in some cases just to make ends meet. When we speak to employees of the Department, many express thanks to Governor McAuliffe for his recommendation of the 1.5% bonus, but at the same time, they express that considering the many years we have gone without proper increases, and to the level that saleries have fallen, measures such as the one time bonuses are not enough. All employees we talk to feel that it is time for the General Assembly to finally prioritize and approve a meaningful accross the board increase that will allow them to at lease start the move back from low wages. NCPSO wants those same employees to know and understand that they have both a role and an obligation to help make those who needed raises a reality. Neither the Secretary, The Director nor the Governor are the ones who will actually enact and approve these measures. The members of the General Assembly who serve on the Senate and Finiance Committe and House Appropriations Committes are the ones who will approve and enact those raises. The more, we as employees and reitrees, stand in the shadows and let our voices be silent the more likely it is that those need raises will never come to the extent where they will be enough to address the compression issues.
December 12, 2016, after a meeting with
Secretary of Public safety. From left to right
President (Richard Hatch), Don Baylor and Kirk Jones.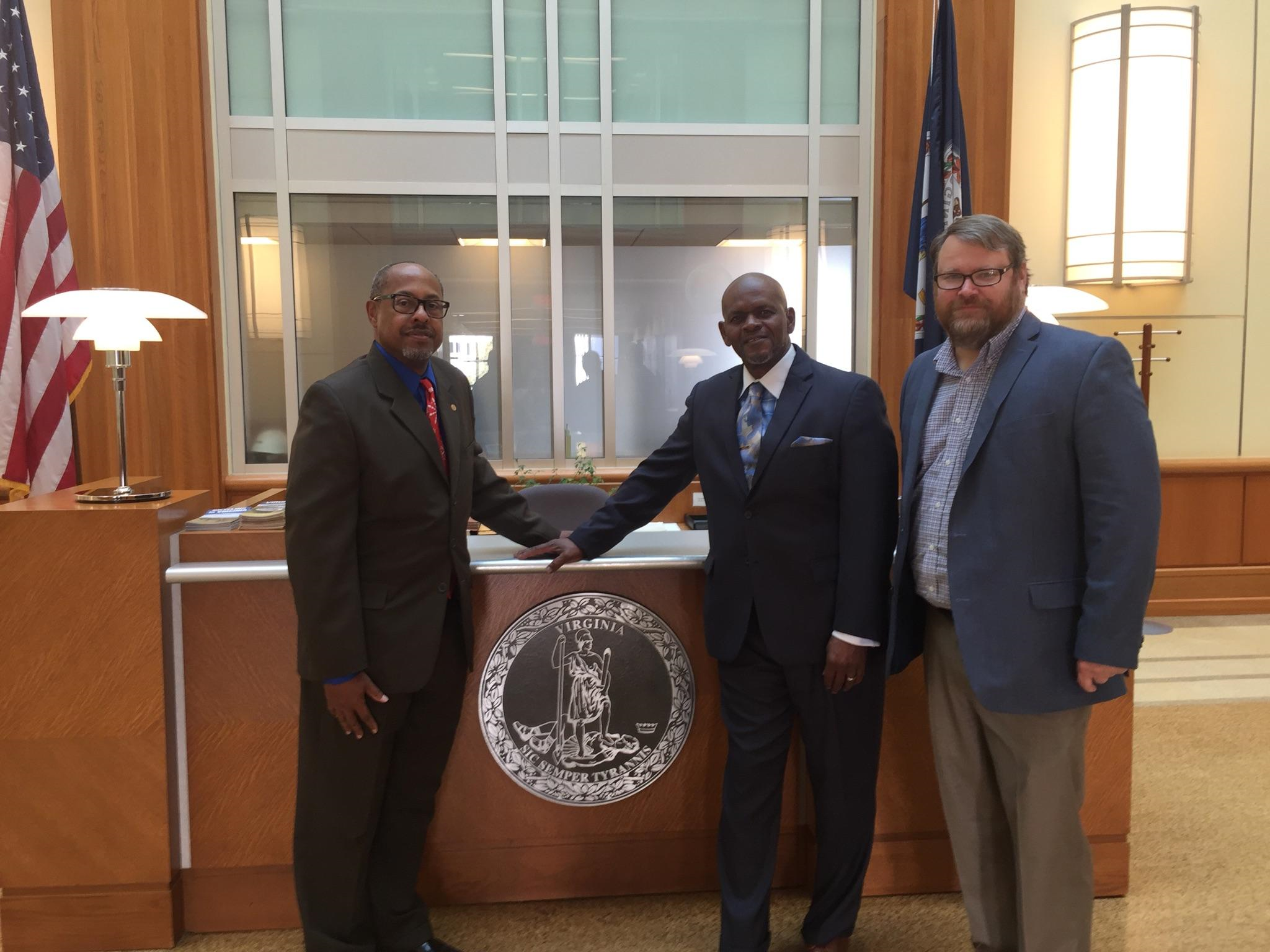 On January 11, 2017 the General Assembly session starts. On January 18, 2017 NCPSO will sponsor its ANNUAL LOBBY DAY. As many of you as possible need to be there. Your participation at the legislature will help set the stage not only for the 2017 session, but for 2018 and beyond. Anyone wishing to participate in the 2017 Lobby Day please contact us at the information below.
Local Office (804) 266-2201 Don Baylor (Organizer) (434) 637-1152
In Solidarity
National Coalition of Public Safety Officers
Page Last Updated: Jan 13, 2019 (15:48:49)